Australians, we feel your pain. Although many Amazon US products have Australian listings, the products are often out of stock, or they have a price premium that is far too high. We know you're looking for pill boxes, so we've hunted down the best pill organisers that are available in your market.
Skip ahead to the Top-5 Pill Boxes ≫

What to look for in a pill box?
There are several features to look out for in a good pill box, here we'll go over a few of those factors. Click here to just skip ahead fo the top-5 pill boxes available in Australia.
What is the construction of the pill box?
First of all, you want to know that your medication and supplement pills are contained in material that is food safe. That's a basic requirement. You also want to know that the enclosure will provide some protection for your medication and supplements - the level of protection you need will vary based on your lifestyle, e.g. if you're just going to keep your pills in your work backpack, you probably don't need something waterproof. Privacy is also a factor to consider here: some pill organisers have discrete designs, while some others look more obviously like pill cases.
How portable is it?
Research has shown that travel is the leading cause of missing medication doses [1]. That's why we think portability is essential when it comes to choosing a pill box. Some designs incorporate more travel-friendly features than others, but all the designs we've included in our top-5 will be fine for travel.
How does it suit my lifestyle?
As you mentioned above, all the designs we've selected are suitable for varying types of travel, but the devil is in the details. If you're into adventure sports, then you want something that is super compact, strong, and waterproof, but otherwise you'd be better off with a design that's more convenient. Price is also a consideration here.
How easy is it to refill and retrieve pills?
A pill box is something that you may need to use everyday, so it shouldn't be a chore to use. Refilling it must be easy enough that you can do it with minimal effort at the start/end of your week, or before a trip. Retrieving pills must be even easier, especially to minimise the risk of spillage.
Top-5 pill boxes in Australia
We've picked out the 5 best options available in the Australian market, and we've tried to provide a range of options to suit different tastes and lifestyles: from stylish travellers, to adventure junkies, to a no-fuss pill case to help busy people stay on top of their everyday medication and supplements plan.
Vera Bradley Iconic Travel Pill Case
Vera Bradley has set a very high bar in terms of design aesthethics and practical design with this pill organiser that will keep your pills safe, and protect your privacy in a compact fabric enclosure that looks nothing like a pill organiser.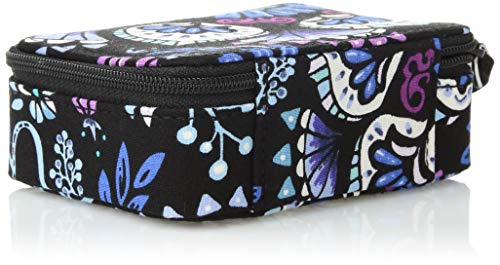 Check pricing / more info ≫
This product is highly recommended. The only potential downside is that due to it's compact profile, it may be a tight squeeze for very large fish oil or calcium capsules. If you don't have to worry about that, this should be a good bet. Although it's designed with women in mind, there are some gender neutral designs, so it could work for men as well.
Waterproof Aluminium Tube Keychains
At a glance, this set of 10 small aluminium tube keyrings looks nothing like a pill organizer, but that's exactly what they do, and they do a perfect job for anyone who wants to take their pills on an adventure.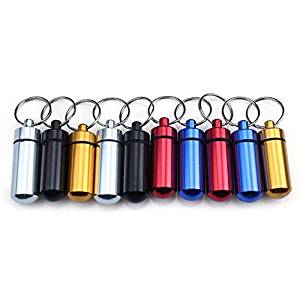 Check pricing / more info ≫
The rugged and waterproof keyring containers are the perfect place to store your pills - whether it's critical medication or even just pain relief - when you take on the great outdoors. The only downside is that this design isn't the easiest to refill or extract pills from, so it won't be a good idea for anyone who suffers from arthritis or any other dexterity impediment, but otherwise it should be fine.
It's also thoughtful that the supplier has bundled 10 containers per order, because with the intended usage, your containers may get wet or dirty, so you want some spare so that you can wash and dry some.
Niome 7 Day Circular Case
This chic attractive slotted pill organizer stands out from the above designs in one potentially critical requirement: this pill case can contain the largest pills.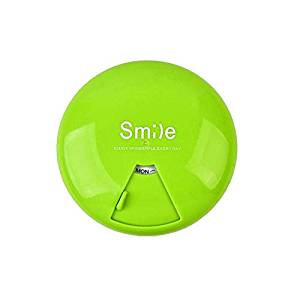 Check pricing / more info ≫
The disc shape will be a bit polarizing - some will love it, but some may not appreciate the shape which is not the most space efficient, in terms of fitting into compartments in smaller bags. But if you're the sort of person who just likes to toss everything into the largest compartment in any bag, then this form factor is just fine.
The other reason the design may be a bit polarizing is due to the circular slot to retrieve pills. This is a double edged sword: on one hand, it's not ideal that the slot may not be that easy to open when retrieving pills, but on the other hand that means your pills are unlikely to spill out when the case is tossed around in a backpack. This design is perhaps one to avoid if you don't have nimble fingers, but otherwise it should be perfectly fine for most people, especially anyone with an active lifestyle.
Emmabin AM/PM Pill Box
Although this design has a traditional pill organizer form factor, it is a premium design with high-end touches.
It has large capacity, both in terms of large compartments capable of containing the largest pills, and also a high number of compartments - 14 to be precise, for a twice-daily one week solution, or once daily two week solution. Although in full form this pill organiser is not the most compact, it is detachable, making it perfect for travel planning.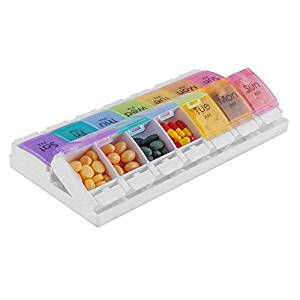 Check pricing / more info ≫
The flip top lids make refilling and retrieving pills a breeze, and the high quality labling is helpful for staying organised. This is especially important for anyone whose medications
These premium touches come at a premium price point, but for anyone serious about staying organised with their medication and supplements, this pill organiser is well worth the investment.
AusDeals 7 Day Pill Organiser
This design is very similar to the Emmabin design reviewed above, but this design only has 7 slots. The reduced capacity comes at a substantial discount compared to the Emmabin, which is why we wanted to highlight it as an option for anyone who likes the Emmabin but feels like the Emmabin's price point is just a bit too dear.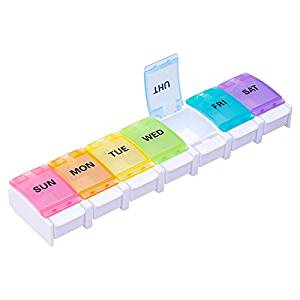 Check pricing / more info ≫
Internationalisation note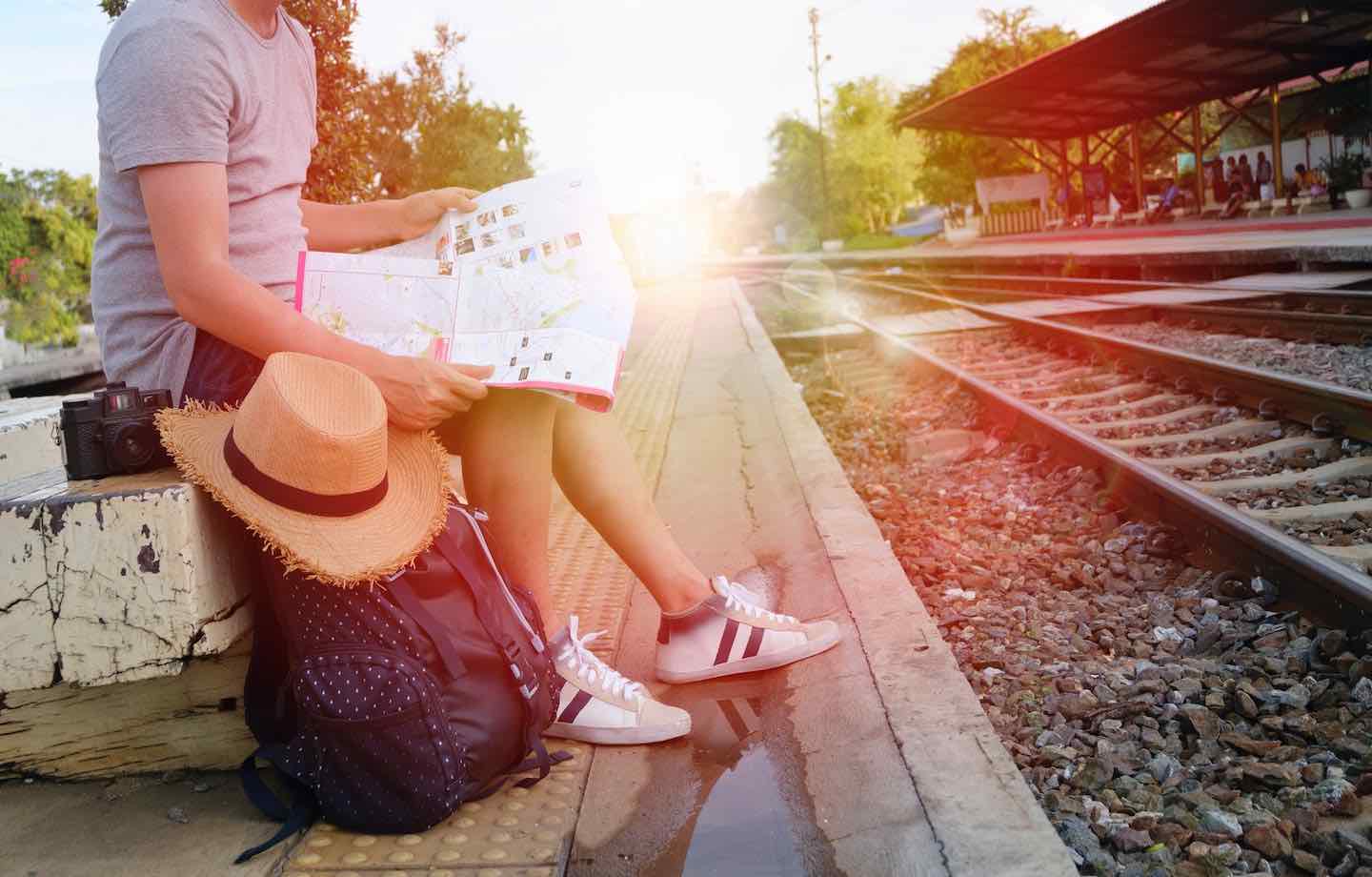 References
Here at Intrepid Wellbeing we prefer to source information from high quality, academically rigorous sources. These are the references we used to develop this article:
Nair KV, Belletti DA, Doyle JJ, Allen RR, McQueen RB, Saseen JJ, Vande Griend J, Patel JV, McQueen A, Jan S. Understanding barriers to medication adherence in the hypertensive population by evaluating responses to a telephone survey. Patient Prefer Adherence. 2011 Apr 29;5:195-206. doi: 10.2147/PPA.S18481.